La planète des singes Ch.II

Ces pièces sont le chapitre deux de mon conte de céramique. Mixant des anciens et des nouveaux dessins, des anciennes, et des nouvelles formes. Une nouvelle terre s'ajoute, le grès. La couleur de cette terre ajoute de la luminosité à la table, tout en gardant la fragilité, et la clarté qui se dégage de la porcelaine.

Poissons, méduses, et singes flottent sur les verres, pots, vases …

Ils nous racontent un histoire qui évolue à travers une nature hybride, pleine de fleurs et végétaux.


Those pieces are the chapter two of my ceramic tale. Mixing up old and new drawings, old and new shapes. This chapter combinate Sandstone and porcelain objects. The color of the clay add luminosity to the table, keeping the fragility, and the clarity which emerge from the porcelain.


Fishes, jellyfishes, monkeys are floating through glasses, plates, pots, vases...They telling to us a story which is evolving through an hybrid nature, full of flowers and vegetals.






Pièces série limitée, ou uniques
Fait main
Résistant au lave vaiselle

Unique pieces in limited series, or unique
Handmade
Dishwasherproof



Chaque pièce est faite à la main, les amphores sont montés en colombin, ce qui les rend uniques. Pour les formes je me laisse porter par l'inspiration. Revisitant l'amphore, tout en conservant son aspect classique, avec une couleur terre claire. Conrasté par la finesse des poissons et singes qui viennent habiter chaque pièces.


Each pieces are handmade, the amphoras are made from clay coil, which make it unique. For the shapes I let myself carry by the inspiration. Revisiting the amphora, keeping the classic shape with the sandstone color. To contrast with the finesse of the fishes and monkeys who are living on each pieces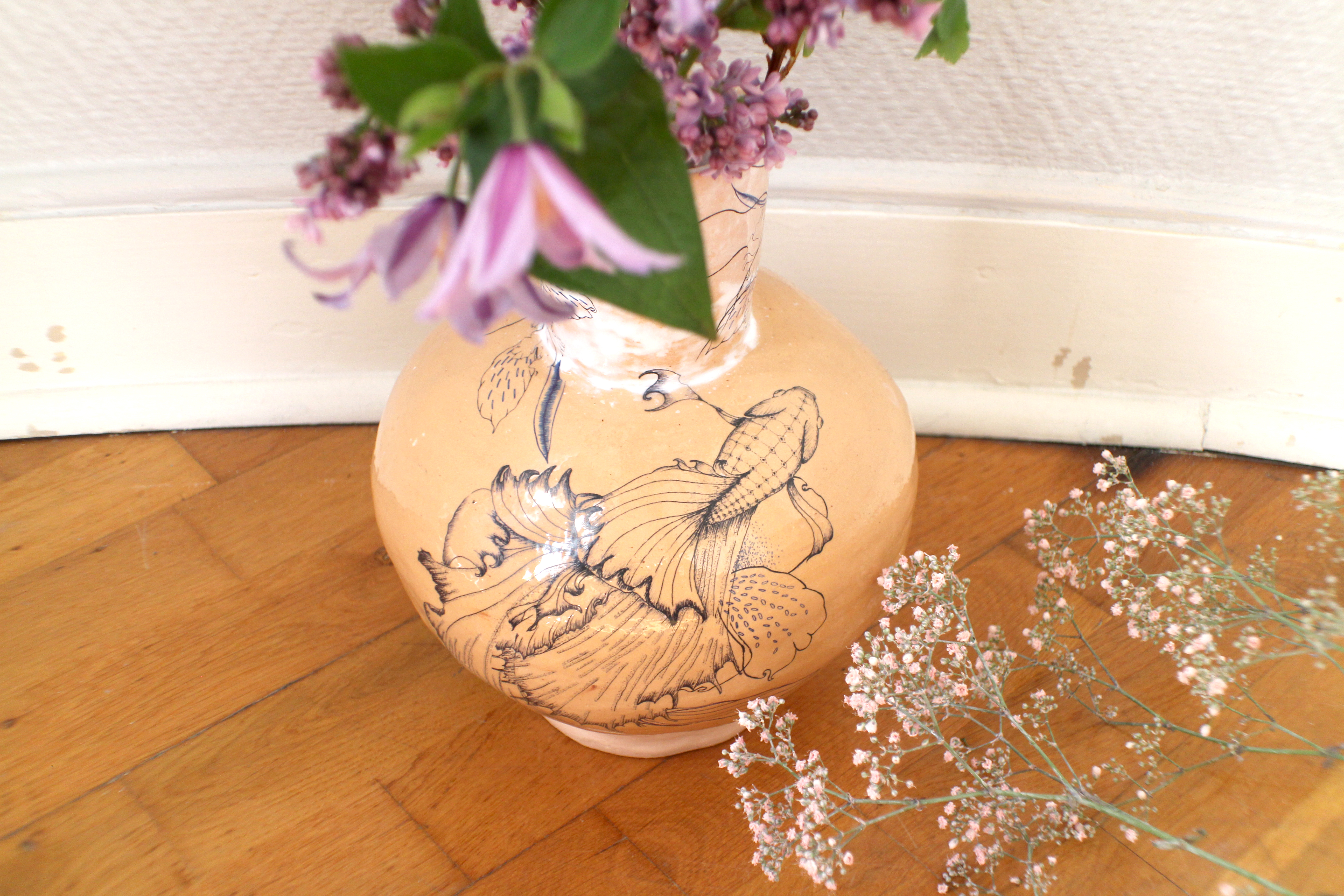 Petite amphore,
Pièce unique,
Grande Amphore,
Pièce uniques,
Certaines pièces sont disponibles sur commande.
Some pieces are available on order.